This week I finally got to visit the award winning salon Frances Marshall, located in Sunderland. I became aware of this salon when they won the Sun Fm 'best salon' award the same year I won 'most stylish blogger'. From then I had them on my radar as one I needed to visit. Our paths crossed when once again the guys were up for another award I presented at the 'made in tyne and wear' awards and although they did not win they were shortlisted which speaks volumes. The owner, Amelia Hall was a guest on the show I co-host called Chatty Lasses and she was an extremely knowledgeable stylist.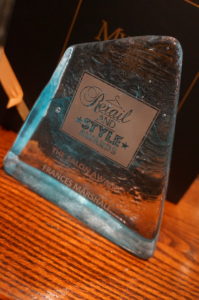 After meeting Amelia on the show, we got talking and agreed next time my colour was due I must visit. I am very picky about who touches my hair but knew I would be in safe, experienced hands.
As a professional salon, I was asked to attend for a consultation and patch test first. Amelia was more than accommodating and allowed me to pop in when it worked for me. Sunderland is a good 40 mins away so I worked it round meetings I had in Durham.
On arrival, parking was a breeze and the salon looked very grand from the outside. I have to say the inside did not disappoint either. It was huge and beautifully decorated. The penny wall at reception stood out to me instantly and I was intrigued to ask how that came about. I was asked if I would like a drink and asked to take a seat. I opted for a coffee and these guys really pay attention to detail as you can see from the photo.
Amelia came over and asked what I fancied. I am one of those nightmare clients who show a picture and say 'I want that' which is exactly what I did. I was not going for a huge big change as I did like my colour but wanted it freshened up for my holidays and more 'stripy' as I described it. Amelia explained she would apply a dark colour and lighten a few stands so she needed to test my hair. She took some hair so she could make sure it would survive the process and popped some colour behind my ear to make sure I did not have a reaction to the colour. Amelia was confident that my colour could be achieved and I made an appointment for 2 days later.
Wednesday arrived and I was excited to get my hair done. Once at the salon Amelia explained that my hair had lifted well, however, she would be using 'smart bond' to reduce any further damage. Opalex was also an option but Amelia went for smart bond for my hair type. Amelia used a 'paint on' technique painting the colour exactly where she wanted it rather than use the traditional foil system. she paid particular attention to blending with the new dark root colour too. I waited patiently for it to develop all the while drinking prosecco, reading trashing mags and getting excited as I could see it taking form before my eyes.
Once developed it was time to pop over to the basin where the colour would be washed off, a toner applied and not forgetting the 2nd smart bond product too. Within the salon, training was taking place for the newly qualified stylists. Frances Marshall pride themselves in a certain standard within the salon and give their qualified stylists further in-house training until they have reached that desired standard. This is why they win awards guys because all staff are at THAT level.
Back at my station Amelia gets to work on blow-drying my hair after explaining she will cut it after as I wanted that blunt cut currently bang on trend. Once dry the colour looks great and is exactly what I asked for.
Amelia is a great girl, lots of fun and an open book like me. I could have sat all day in that salon chatting with her. She has worked hard building her salon, is a great stylist and deserves all the recognition she gets. When it came to the blunt cut Amelia asked if she could use the clippers. Now I'd seen this done before on the internet so was up for giving it a blast. It is one way to get that real solid blunt line but don't move for god's sake. Next, she gave me that sexy, tousled, style to finish and I was extremely happy with the result. Check out my new do below and be sure to let me know what you think in the comments. I LOVE it and want to thank Amelia again.
If you would like to book an appointment at Frances Marshall please call 0191 5654080
Visit their website HERE
Keep an eye on training offers on their facebook page HERE
or Tweet them HERE