So last night I was invited along to a blogging event for Benito in Debenhams, Eldon Square.
Who is Benito?
"Ahh it all happened so quickly…

He's always stared into the eyes of fellow beings that passed his way, with a strong sense of admiration. The windows to the soul often shone with beauty but the brows and lashes, not quite so!

In a flashtastic moment he knew what had to be done! He must provide perfect brows and lashes for all… But how?

With a passion to trim, tint, tweak and tame the world's unkempt calamities this fashionista and renowned beauty tourist travelled the cultural corners and brought to these naïve shores the simplest, quirkiest and most perfectifying skill of threading!
Great brows for all!

Benito designed, devised and pioneered the brow bar concept and now loves to shout from the highest vistas all about the Nation's number one Brow Bar. With an ever increasing Nationwide coverage of over 30 Brow Bars and counting, all offering an express walk in WOW service of choice and convenience!"
They offer high definition brows, tinting, waxing, threading, gents brow management, lash extensions and packages. I had my brows threaded last night and I love them. I thought my brows were not too bad until I saw the end result. Check out the picture below where I have one brow done and one untouched. I look like I've had a stroke down one side of my face. The brow that has been threaded has completely lifted the appearance of one side. Brows frame the face and a good brow makes a HUGE difference. If there is one thing I cant live without,its good brows!
There is a protocol all Benito therapists follow so you receive the same great service at each and every brow bar. Check out the end result. The threading is so precise and lasts so much longer than your average wax. Threading can grab the tiny hairs that wax cant too.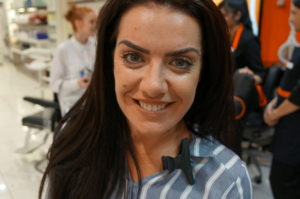 Benito treated us to some fizz, gorgeous branded cupcakes and a fabulous goodie bag full of branded goodies of their staple orange colour.
Benito currently have a half price offer on for semi perm eyelash extensions throughout September
Eyebrow threading costs just £13.00. I will be back to get my brows tinted and will certainly return for threading in the future.
Thanks so much Benito for inviting me and making my brows "on fleek"
Find your nearest Brow Bar HERE