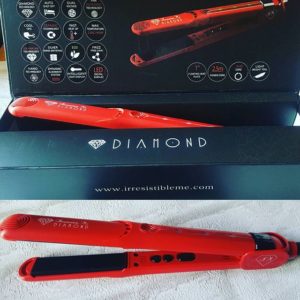 Living in a house full of boys there is nothing I love more than taking myself off for a little "me" time and "me" time for me is what I call "faffing". Faffing with make-up, faffing with hair, I just love faffing!!! My popular Facebook group tried and tested came about after a night of "faffing" creating hair styles with a new hair tool i'd purchased, so you can imagine my delight when I was sent this new generation of flat iron from irresistible me.
They were delivered within a couple of weeks and packaged well, the box is stylish and would make a great gift. The flat iron is bright red in colour and lights up with led lights when in use. It has an american 2 prong plug so you will need to grab yourself an adapter. I got mine from the pound shop. All the functions listed on the box looked impressive so I was very keen to give them a blast
a 360° mobile cord that swivels around following your every move
a thumb print and cool tips for a steady grip and to avoid burning your fingers
all buttons are on the inside so you don't accidentally change the settings
shuts down automatically in 30 minutes
gets hot (450F/230C) really fast, in up to 15 seconds
intelligent heat display that lets you see the temperature all the time
it is super light and comes in a beautifully designed box with magnetic closing that you can use to store it
it automatically changes the temperature display to Celsius or Fahrenheit, depending on the supplied voltage, making it perfect for travelling
the 1" floating plate self-adjusts, eliminating any pressure points, so that the iron can work through your hair smoothly without pulling
Warranty: 1 year guarantee
I have very thick naturally curly hair so it takes a good flat iron to tame it. The good thing about these is the variable temperature control so you can have the cooler setting for thinner or damaged hair, however I ramped them up to 230 oC because my hair needs heat!!!. They have a great clamp on the hair but also glide effortlessly with no snagging. They ironed out my hair in no time and i'm sure you will agree that the result is impressive.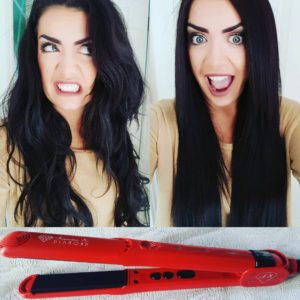 Stay tuned in to my blog for more styles with this fantastic flat iron  and if you want to purchase them yourself then visit here, they cost $149 which is around £122 but if you sign up on the website you get an extra 20% off!