last Sunday myself and my husband went to Ramside Hotel in County Durham for a mini spa break and we had the most wonderful time. The Ramside is the only Gold awarded AA rated and 4-star spa hotel in Durham and I think it is well worthy of 5 stars from what we experienced.
Upon arrival, the staff were polite and very helpful. We checked in at 3pm (check in time) and were asked if we needed help with our luggage and given the location of our room. We were in a premier double room based in the new wing and it did not disappoint. The bed was huge and the room was equipped with everything you would expect from a top – class hotel including high-speed WiFi, complimentary bathrobes, slippers and ESPA toiletries, I love high-end toiletries in hotels. We also were treated to a huge luxury bathroom with a free standing bath and a walk-in shower.
Once we checked out our room we were eager to get to the spa, one of the things I loved most about this hotel was the fact you could access the spa via the hotel. No going outside meant you could pop on your robe and slippers in your room and walk down the corridor to the spa and everyone did it so you didn't look silly either. Who wants to be messing on with getting changed in changing rooms when you have your own private room just up the corridor.
We checked in at the spa reception, were given wristbands and were told we had full access to the spa. We were not quite sure what this meant but we were about to find out and were ready to be wowed!!
We walked straight through the changing rooms to reach the spa area which were clean and again full of ESPA toiletries for guests. There were fresh towels and robes if you needed them. There were complimentary flipflops so I changed my slippers for these. We did not use the changing facilities but they were well equipped with everything you would need. At the other end of the changing rooms, I met my husband and we were both impressed by the size of the 25m swimming pool.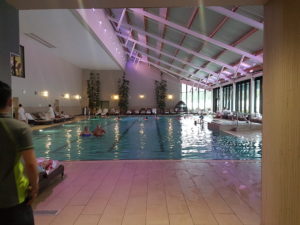 We decided to have a wander as you do when you visit somewhere new, within the area of the large pool was a sunken sauna, designed to increase circulation. Very beneficial for strengthening the immune system, cleansing and detoxifying. Perfect after a good workout to reduce muscle tension, also good to relieve joint pain. An aroma steam room enriched with essential oils, designed to soften the skin, cleanse the pores, calm the nervous system and relieve stress and there were lots of comfortable loungers.
We could see the outdoor heated pool with spa garden through the windows and wondered how you get outside. Then we found the entrance to a whole different level of spa. You will need to make sure you have full access when you book your spa day to experience this additional area. You use your wristband to let you in and we were wowed. I have reviewed many spas as you will see on my blog but this place was on another level. There is a large hydrotherapy pool with many different jets and gadgets, we had great fun trying them all out. There are two additional thermal suites, the Himalayan Salt steam room which helps with skin conditions including psoriasis and eczema and the Herbal Infusion sauna which helps to revitalise and invigorate the senses and looks out onto the outdoor heated pool and spa garden. There is lots of comfortable seating and bar area with fresh fruit, infused waters and service with a smile.
Treatments can also be booked in advance with the beauty therapists. We were more than happy with what the spa had to offer even without experiencing treatments and we made sure we had a go of everything. We especially enjoyed the outside area and the hydrotherapy pool. One of the staff members managed to reserve us two beds as it was extremely busy and we lounged around snoozing until it was time to go and get changed ready for our evening meal reservation at 7pm in the fusion restaurant. I do want to point out that you can go into the fusion restaurant in your robes and slippers also up until a certain time, but we wanted to get changed. We walked back to the room in our robes and got changed ready for the evening.
The restaurant is situated within the spa using traditional recipes from South East Asia. You can view the menu here.
The food was outstanding, as was the service. The guy who served us was called Charl and he was very happy to assist us with our choices and he was a credit to the restaurant. We went for a selection of starters to share and a main course each. The portion sizes were good and the quality of the food was unreal. We had a selection of prawns for a starter, a soup and duck with pancakes. My husband had sweet and sour chicken for his main and I had the crispy duck on top of noodles. We were too full for a dessert but I had a latte coffee which was lovely and creamy. We will most definitely be visiting this restaurant again in the future.
Once finished the lovely meal we retired to bed. The bed was comfortable and we had a great nights sleep. Our final experience of the hotel was the breakfast. Once again this hotel did not disappoint. There was a good selection of hot and cold food including cereals, cold meats, cheese, yoghurts, pastries, breads, jams, traditional English breakfast items at the self-serve buffet and more. I was still stuffed off the night before and am not a big fan of breakfast in general so did not eat much but my husband really enjoyed his and agreed the selection was very good.
Once finished breakfast we went to check out. We could have spent the day there in the spa but we both had to be back due to work commitments. We had been very eager to use the gym, and took our gym gear but unfortunately ran out of time, so I can not comment on the gym facilities, however, I am sure they will be fantastic if the spa is anything to go by.
Overall we had an amazing experience at The Ramside Hotel and Spa and I would highly recommend this hotel and spa to my readers. Check out all the spa deals they offer here
Any exclusive offers I may get for my Tried and Tested members will be posted on the Tried and Tested Facebook group so watch for any future offers.
Thank you so much to the Ramside Hotel for inviting us along to review the hotel and spa. We can not wait to return in the future.