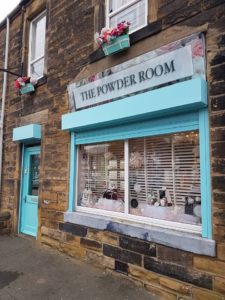 I speak about this salon regularly on my facebook group.
If you have not yet visited ask yourself why!. It is beautiful and the treatments delivered are top quality with such friendly experienced staff. Check out some of these pictures of the salon itself before I continue with the blog about my recent treatment.
Last week I visited The Powder Room Washington to have a Comcit facial. This facial is a favourite with all the celebrities at the minute and there is no doubt why. It is one of the best facials currently on the market, with a prescription to suit all skin types, each with different results. The press is all over this facial and you need to try it to believe all the hype, you won't be disappointed!
Comcit elite the is most exciting skin rejuvenation system yet.
You can choose between
MICRODERMABRASION
Flawless skin in an instant, this treatment offers a safe, controlled method of skin exfoliation and allows superficial peeling of the stratum corneum, reducing its thickness through mechanical abrasion of dead skin cells .this also stimulates new cell regeneration which results in firmer and fresher complexion. super – buffing facial achieves an instant lift. £55.00
H20 GLOW red carpet ready
This is crystal clears most intense hydration treatment yet, giving red carpet ready results. The h20 glow facial delivers freezing cold oxygen throughout the epidermis to nourish and invigorate skin cells, while the comcit micro channelling roller allows hyaluronic acid to reach deeper dermal layers via microchannels; plumping and re-balancing the skin from inside out .the result is brighter, fresher, hydrated skin that glows with a youthful radiance. £75.00
FROZEN FACIAL (the one I had)
The most effective and advanced skin rejuvenation treatment yet, tackling lines, wrinkles, and pigmentation .enjoy a full cleanse and gentle exfoliation followed by our groundbreaking comcit elite treatment, using cryo oxygenated micro channelling rollers to infuse the skin with a potent active infusion serum, tailor-made to tackle the individual's concerns.
stimulates collagen production while plumping and firming the skin. Treatment is finished with the application crystal clear facemask providing an extra hit of hydration, a truly remarkable treatment. £85.00
It is recommended a course of 6 treatments 1 every 2 weeks. Then one every 1 – 2 months
I had the frozen facial and it was amazing. You can literally go make up free for weeks after having this facial. Your skin also gets better day by day. I have a series of pictures where my skin is literally glowing off the results. This facial was great for getting my skin ready for a special theatre show I was involved in this week. My skin is plumper, more hydrated and dewy. Check out the results!
                BEFORE                                                                       AFTER
AFTER OVER A FEW DAYS (all makeup free)
I honestly can not recommend this facial enough. Do you have a special event or is your skin dull or tired looking?. This will be just the pick up you need. Maybe you have some skin problems that this could help with. I took a picture of the dirty grey crystals that were left behind after my facial, this is all dead skin. the crystals start off white as you can see in the picture.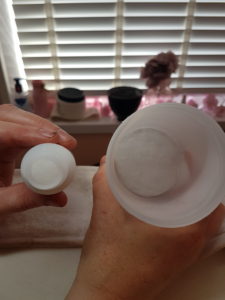 The salon has recently been renovated too. I love Joannes style, it's every girl's dream. It's so beautiful! Just look at this flower wall and the treatment room where I had my treatment.
Anyone who would like to book a facial can do so by contacting the salon by telephone: 0191 417 9036
NOT YOUR ORDINARY FACIAL