On Monday I was invited along to the Garage Spa located near Barnard Castle, Co. Durham for a morning pamper session. As if I was going to refuse a morning of pure relaxation so of course I jumped at the chance. I have seen this spa mentioned many times on Tried and Tested with glowing reviews so I was very excited.
Firstly the area is stunning, lots of green surroundings and it was a red hot day. I noticed a large hotel ''The Morrit'' beside the spa and did not realise that later this would be where I would dine for lunch.
''Adjoining the historic Morritt Country House Hotel, The Garage is a building with a fascinating past, transformed from an ancient stopping station into a first-class spa.
Here you'll find everything you expect from a modern spa and more. Created with imagination and luxurious rural simplicity, sumptuous decor awash with warm natural stone and timber welcomes you like an old friend.
The Garage is no ordinary spa. Want your nails done? Step into the paint shop. Not firing on all cylinders? A full body MOT is just the ticket. Need to put on the brakes after exploring the stunning Teesdale countryside? Make The Garage your destination.
We've put a unique and luxurious spa on the map and look forward to welcoming you to our one-of-a-kind facilities and gorgeous treatments.''
On arrival I was greeted by two lovely smiley therapists who gave me a medical form to fill in, asked if I would like to book any additional treatments as they had availability and gave me a menu to pick my two course lunch which was either a starter and a main or a main and a dessert. I was very impressed by the menu, true restaurant standard food and lots to choose from.
After I had filled in my forms and picked my lunch I was shown to the changing area and given a fluffy robe, towel and flip flops to wear. The changing areas have individual units which include a toilet, basin and shower which was a nice touch and they were fitted to a very high standard, I loved the tiles and huge shower head. It did feel like my own private bathroom. Shampoo and Conditioner was supplied, however there was no body wash and my hand wash had ran out on the basin so I had to wash with shampoo.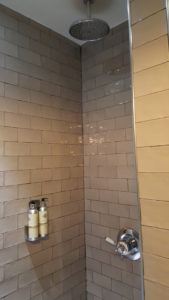 Once I was changed into my robe I was given a guided tour of the spa which consisted of
Steam Room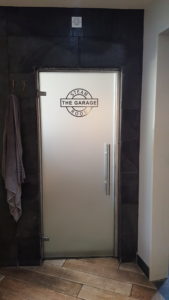 Salt Room
Jacuzzi with separate plunge pool and a separate warm pool
Outdoor Gardens, which if you get the weather like I did are just amazing to relax in. I loved the swing seats
Outdoor Sauna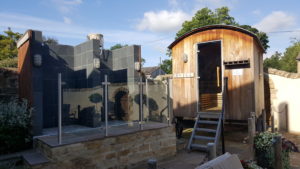 Outdoor rustic Jacuzzi bath
Many different fancy showers around that all looked different so I assume do different things and cold bucket dunkers which would be great fun if with friends
Many treatments rooms including a mud treatment room (you can buy the mud to massage all over the body, chill in the room letting it work its magic and then wash it off) the floatation bed room (ill come to this treatment later) then upstairs they have a couples treatment room which has its own private balcony with a copper bath on the balcony and more treatment rooms.
I had a go of everything apart from the mud and didn't have a treatment although I wish I had now.
I must admit I loved the outdoor space especially as the weather was so good and it was so peaceful.
I was treat to a 15 minute dry floatation treatment which is a like a water bed that you lie on and your submerged down into warm water. Imagine being on a lilo in a hot bath but actually being submerged without getting wet. The bed sort of hugs you tight and you just float on warm water. I did lie there thinking that it would be great it had settings that would create a slight wave so you felt you were at sea but it was very relaxing all the same.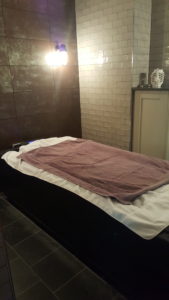 After the floatation treatment I was peckish. I'd had no breakfast so went to the reception area which has a beautiful lounge and ordered tea and a teacake. I sat and enjoyed this in my robe catching up on emails. Once finished I went back to make the most of the facilities.
At 12.30pm I decided to go and get changed ready for lunch at 1pm. I sat in the sun outside the spa and a lovely girl from the hotel came and got me and escorted me to the restaurant in the hotel. My meal was fantastic, could not fault it. As was the service, I had corn fed chicken and a strawberry shortcake. It was divine and from what I saw of the hotel it too was beautiful.
After lunch it was time to head home. I really enjoyed my time at the Garage Spa, its quirky and different to the norm which I like. I will definitely return with friends in the future and make sure I have a treatment.
Don't worry I did not leave without securing all my readers an exclusive discount and I have a cracking offer for you all subject to availability so don't miss it!
It is the Country Lane Package which consists of;
Full day Spa use (9am-5pm)
2 course lunch from our bar and bistro menu
Use of our fluffy robes, towel and flip flops
Mud Pit treatment
55 minute Classic Facial or 55 minute Deep Relaxing Massage.
Usual Price;
Monday- Friday £109.00 per person – 20% off = £87.20
Friday – Sunday £149.00 per person – 20% off = £119.20
This offer will be subject to availability so book ASAP and make sure you quote "Tried and Tested" to get the discount. 
Tel: 01833 863100
Email: [email protected]