I was sent some show beauty products to try and test. I was in the process of only washing my hair with conditioner following the "Curly Girl Method" so the only products that were going to tempt and steer me off track would be these. Show beauty hair products are renowned as the creme de la creme of hair care and I have heard great things about the products brought to us by Tamara Ecclestone . I have also previously had the pleasure of visiting the show blow dry bar in House of Fraser Gateshead for a spectacular blow dry ready for a very special event where I won Most Stylish Blogger 2016.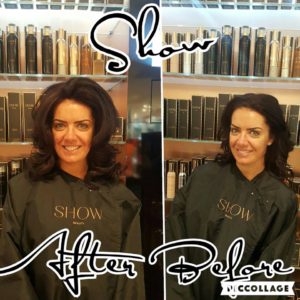 (huge hair)
Show Beauty do the most amazing blow drys that honestly last all week so I was delighted when I was sent a selection of products to try.
I was sent the products below
Show Beauty Pure Moisture Shampoo

Restore a natural shine to hair with the Pure Moisture Shampoo from SHOW Beauty. The luxurious shampoo provides exceptional cleansing and nourishment to hair, balancing moisture perfectly resulting in healthy and lustrous looking locks.

Formulated with a blend of Caviar, White Truffle and Shea Butter, infusing the formula with Minerals and Amino Acids in order to thoroughly condition and strengthen fibers. A combination of Soy Protein and Pro Vitamin B5 boasts moisturising properties, hydrating hair and helping to control frizz

Show Beauty Pure Moisture Conditioner

Restore the hair's natural moisture with the Pure Moisture Conditioner from SHOW Beauty. The deeply nourishing formula balances hair's moisture, resulting in intensely soft and smooth locks.

Formulated with a blend of Caviar, White Truffle and Shea Butter, the conditioner works to infuse hydration to each fiber for added tensile strength and exceptional gloss and shine.

Formulated without parabens and sulphates.

Show Beauty Dry Shampoo

Designed to cleanse and refresh your hair without the need for washing, this Premiere Dry Shampoo from Show Beauty gives your locks a salon perfect look, with more volume and a rejuvenated feel. Formulated with tapicoa powder and rice starch to withdraw impurities and absorb excess oil, this luxurious dry shampoo contains aloe vera, mango, kiwi and ginger to protect against moisture loss and give a subtle, fresh fragrance. K.D.

Show Beauty Finishing Spray

Giving you that salon perfect finish every time, this Premiere Finishing Spray by Show Beauty gives you a weightless, firm hold that lasts throughout the day and night. Formulated with a polymer memory system that keeps hair in place whilst giving your locks a natural look and a brushable finish, this spray contains AC Kerazyme to protect hair against the intense heat of thermal styling. A must have product for picture perfect hair. K.D.

Show Beauty Volume Mist

An innovative volumising hair spray, this Lux Volume Mist from Show Beauty provides your locks with salon perfect style that will last all day. Working to lift the hair from the root, this mist should be applied onto damp hair and will give a natural, brushable finish. Boasting a formula containing a protein rich blend of aloe vera, lavender, mango and kiwi, the Lux Volume Mist is a must have for picture perfect hair. K.D.

(Styled by Hair By Gemma, Show Beauty Hair products used)
I have to admit I love them all, the shampoo is very luxurious and you only need a tiny amount. It cleans your hair so well you can easily go 3 – 4 days without washing again hence why I believe the blow drys last so long too. I've never known a shampoo clean as well. The conditioner instantly detangles and nourishes the hair leaving soft smooth locks. The scent of these products is beautiful and lasts for days too.
The dry shampoo is not talc-based so you don't end up with white hair. It is a fine mist that again smells divine and just prolongs the no shampoo days. I'm all for an easy life as I have long thick hair that takes an age to dry and style so anything I can use that reduces shampooing is a winner for me, plus its better for your hair.
The finishing spray gives superb hold without the "crunch". It's a natural finish that lasts, smells amazing and has heat protection.
The Volume mist is one I would not use that often as I have great volume already, however on trying this product I can see why it would be a welcome addition to anyone who has thin hair that needs a root boost.
One product I didn't receive but I know is their best seller and the one product everyone talks about was the Show Beauty Pure Treatment Oil so if you have tried this please pop your reviews below. I would be keen to know what you think of it.
Ok so Show Beauty Products may not be the cheapest but they are definitely a luxury brand that delivers results and sweet smelling hair to die for. As I have said, you do not need to use much product so they last a long time. The bottles are beautiful and look amazing on your dressing table so keep them when empty or even fill with other products because they are far too nice to throw away.
If you want to try the products be sure to book a blow dry at any of their blow dry bars located up and down the country. As I have said, there is one in House of Fraser Metro Centre which I can recommend and they also have the hair washing facilities unlike some.
I hope you enjoyed this review, lots of love Lisa xx