If you haven't already visited the new quirky fashionable opticians in Newcastle and you love your "eyewear" then get yourself there pronto!
I went along for my eye test after seeing numerous posts of people in really funky glasses. I was due my test and wanted something a little different to my usual heavy black square frames. I had also had a previous bad experience going to a budget designer frame place which resulted in me having a bad fitting, designer, expensive frames that I could not wear as they did not fit my face.
On arrival, I was greeted by extremely friendly smiling staff who were instantly very attentive. The opticians itself was so quirky, stylish, warm and very inviting.
I was taking into a room to undergo my eye test. It was extremely in depth and they have all the latest technology, some of which I had never experienced previously.
After finding out my eyes had not worsened thankfully it was time to pick my frames. I knew I did not want anything like I have had before. The guys were really helpful passing frames which they thought would suit me, giving their honest opinion on each. The service, I felt was so personal. I was not just left to browse the shop floor, I had a one to one service with both members of staff, including the optician himself, helping me choose the perfect frames. The optician would check every frame I tried for fit and tell me if the frames were not fitting well.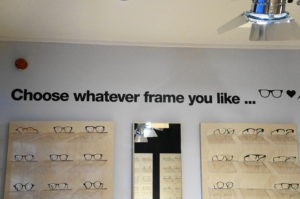 I ended up choosing a grey bamboo frame which is so lightweight and trendy. I was not sure about this style, however, the guys helped me choose and they loved them and I have to agree that they were so right. When you try on so many styles it is so difficult to choose and I could have easily picked out at least 5 frames I loved but these just pipped the post for the unusual matte grey colour, bamboo material and that all-important second opinion.
Once the frames are picked, they are to be sent away for the lenses and this takes a couple of weeks. I was very excited when I got the call to tell me my glasses were ready to be picked up
I went to collect and they were adjusted to fit, again the staff were full of smiles and happy to spend time making sure I was completely happy before I left. I love my new glasses and I was keen to share a few selfies on social media.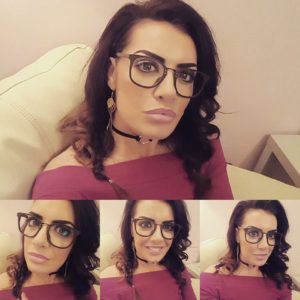 If your due an eye test or want to purchase some new glasses, I would highly recommend CrossEyes in Newcastle for customer service, price, knowledge and choice.
GLASSES
Eyewear no strength £ 85
Single vision £ 145
Single vision +/-3 £ 235
Progressive £ 295
Progressive +/-3 £ 385
"The CrossEyes concept is built on honesty, dedication and smart

 

design. Through honest and hardworking employees, and low and transparent prices, CrossEyes is able to create an environment where you receive the right guidance

 

when looking for quality spectacles. CrossEyes has hundreds of different custom made frames, which ensures that everyone can find glasses suitable for both their look and personality. At CrossEyes, we do not hide the prices – we display them for everyone to see. 

We take pride in our well-made and smart-looking frames. The customers give them personality, and make us look good as well. That's why we want to make sure that everyone feels good when wearing their new glasses, and that they have made the right choice by purchasing CrossEyes frames.  Just by taking a walk through the city our customers spread the concept to the outside world, and for that we are forever grateful.

#Ourfaceisyourface is a campaign launched by CrossEyes Eyewear in Denmark. A tribute to our customers -they make us look good."
Visit the CrossEyes website
HERE
to book your eye test today.