Well, another day, another award winning Salon visit!
Everyone knows their hair is their crown and glory and I'm always nervous visiting different salons to review, however, I need not have been worried when visiting Collective Hairdressing smack bang in the middle of Newcastle town centre. They are the most reviewed salon in the North East of England due to their unique five step consultation. They listen, advise and educate all clients in the maintenance of their hair. Currently ranked 1st out of 7,355 UK salons as of the 23rd of September 2016. Winners in the English Hair & Beauty Awards 2015 for the Team Service of the Year. As of the 18th of February, finalists in the English Hair & Beauty Awards 2016 for not only Hair Salon of the Year 2016 but also Team Service of the Year 2016. (seriously check these guys out!)
Before my visit, I had a skin test which is most important when going for a colour. The moment I met Paul the owner, I felt immediately relaxed. He is fun, happy and more importantly has years and years of experience and really knows what he is talking about.
Never have I ever had such an in-depth consultation, which consisted of colour matching to my skin tone (we discovered I was cool tones), a discussion on what I wanted to achieve, an in-depth explanation of the products we were going to use and why and the current condition of my hair.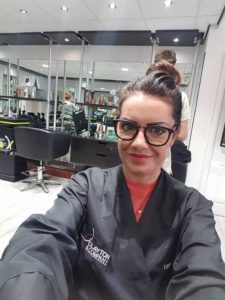 After explaining I wanted a deeper darker colour as I felt I was too light, Paul explained just by going cooler on the same level will achieve this. I also wanted slices of a vibrant contrasting caramel colour, Paul explained this is known as strobing and picked the perfect colour to marry with the dark ash tone. We then discussed the length. My hair was long but quite heat damaged on the ends, I went in not wanting to lose any length but I trusted Paul and understood that losing some of the length will not only make my hair more healthy but would also give me the body that my crazy thick, naturally curly hair needs.
So after The 30 mins consulting Paul was ready to get to work!
Paul started by cutting off the length (he would then finish my cut later). The lightened slices were added and then my all over dark brown colour. This was left to develop while I was looked after with offers of refreshments. The salon has a lovely feel, Paul makes sure your involved in any conversation and all clients speak with each other which is lovely.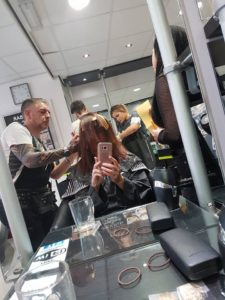 The developing time was up and I had a toner applied to my lightened slices of hair at the basin. This is where the magic happens, not only with the toner but with the products used in salon. Collective hairdressing use Loreal Pro Fibre and this was used on my hair when shampooing and conditioning. I did not have the smart bond treatment we hear so much about when colouring, which keeps the condition of the hair throughout, however, I did get introduced to the pro fibre "restore" range and have since been using this range at home with amazing results. I was very concerned how my hair would be after with the bleaching, but a combination of a good cut and using the right products, my hair is looking and feeling fantastic.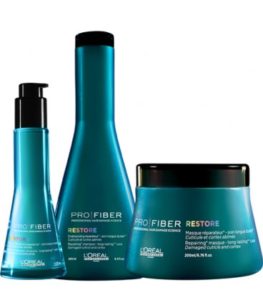 Once toned and washed Paul gave me an amazing blow dry so he could finish the cut. The cut was important for my hair type, curly hair with body needs cut correctly and Paul explained all this. He also wanted me to see my look curly so finished off by curling it for me.
I was over the moon with the results, my new look is much more on trend and my hair looks and feels amazing. I would highly recommend this salon ladies and if your a fan of Loreal products, they sell them all!
Big thanks to Paul and all the staff at collective hairdressing for my new look!
To book an appointment give them a call on 0191 222 1311 or book online via Collective Hairdressing.